HyMedPoly  organised the Third Open Science Workshop: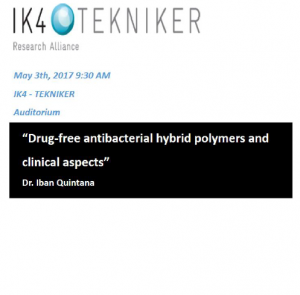 "Drug-free antibacterial hybrid polymers and clinical aspects"
The third HyMedPoly Open Science workshop "Drug-free antibacterial hybrid polymers and clinical aspects" was held Wednesday 3 May 2017 at IK4 – TEKNIKER, Eibar, Spain.
This half day event included presentations from leading academic, clinical and industrial researchers including:
Antimicrobial biopolymers
Antimicrobial modifications of synthetic polymers
Antimicrobial surfaces through physical and chemical functionalization
A clinician's perspective of antimicrobial applications
Following introductions to Tekniker's activities in the biomedical sector and the HyMedPoly project by the project co-ordinator, Lucideon (download presentation), five presentations from project group members highlighted aspects of drug-free antimicrobial materials and medical device development. Note – some of these presentations contain images of medical conditions and procedures.
Antimicrobial biopolymers obtained via Bacterial Synthesis
Prof. Ipsita Roy (University of Westminster, UK)
A review of antimicrobial polymers from bacterial origins using polyhydroxyalkanoates and bacterial cellulose as examples and describing their synthesis, structure, properties and potential applications.

Antimicrobial modifications of synthetic polymers
Prof Valeria Chiono (Politecnico di Torino, It)
A review of strategies to modify synthetic polymers to produce bactericidal effects through two strategies; polymers that mimic antimicrobial peptides and polymers that interfere with quorum sensing communication in biofilms.

Antimicrobial surfaces: Physical and Chemical Functionalization
Dr Iban Quintana (IK4 – TEKNIKER, Es)
A review of methods of producing antibacterial capacity through nano- and microstructuring of surfaces, highlighting the role of the substrate and bacterial properties that need to be considered in producing effective results.

A discussion of the issues that companies face in developing new antimicrobial materials concluded the meeting.