ESR 1 – Degradable Antibacterial Polyesters and Composites
 Jeddah Marie Vasquez- Politecnico di Torino and Vornia Limited
The Project:  Synthesis of antibacterial functionalised copolymers and their applications in the wound healing sector.  The research aims to synthesise a triblock polylactic-co-polyglycolic acid-polyethylene glycol- polylactic-co-polyglycolic acid (PLGA-PEG-PLGA) polymer in supercritical carbon dioxide (SCO_2) as a solvent, eliminating the need for polymer purification solvent and making it an environmentally friendly process.
The ultimate product objective is a thermoresponsive hydrogel given its ability to be solubilised in water.  This solution is intended to be liquid in room temperature (20-25°C) while forming a gel at body temperature (approximately 37°C).
The Researcher:  Jeddah Marie (Jem) Vasquez, graduated from University of the Philippines – Diliman with a masters in Chemical Engineering last June 2015.  For two months, she worked as an intern in Singapore's Nanyang Technological University's Department of Material Science Engineering.  Her specialisations for the last two years were mostly focused on the synthesis of hydrogels from natural polymers such as cellulose, alginate, and chitosan.  Her education in chemical engineering has also given her a background on reactor design, industrial plant design, chemical separation processes, environmental engineering, and biofuels.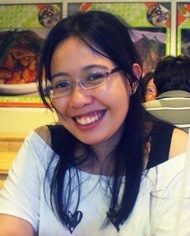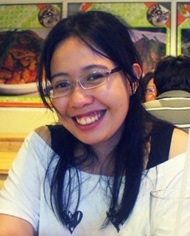 Jem's birth was heralded by storm and lightning, from Typhoon Ruping which struck Philippines in the nineties.  This chaotic backdrop served to foreshadow her restless and dynamic personality that moves from place to place seeking knowledge and adventure.  Her interests include travelling, meeting new people, hiking, swimming, reading books, and playing RPG video games.  The popular hashtag #YOLO (You only live once), has come to define her way of life.