ESR 12 – Mechanobiology of Cell-Surface Interaction
Faezeh Shalchy – University of Southampton and Lucideon Limited
The Project:  the research is investigating the role of surface roughness and topography on the response of cell adhesion, proliferation and growth with two potential applications in the longer terms – to maximize anti-microbial response and to enhance cell adhesion and growth for biomedical scaffolds.
The methodology will be based on theoretical and computational primarily, with experimental investigation also planned.  The use of computational elasticity and molecular modelling for multi-scale understanding of the structure-property relationship is proposed.  The role of the elasticity of the solid surface on which cells grow will also be studied.  Novel modelling techniques such as Dissipative Particle Dynamics are proposed for the understanding of the behaviour of matter at intermediate length scales.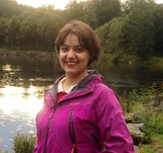 The Researcher:  Faezeh Shalchy, from Hamedan, Iran completed her bachelor in Mechanical Engineering at Sharif University of Technology, Tehran, Iran.  She received a gold medal in Chemistry Olympiad, 2005.  After her undergraduate studies, she was awarded a research assistantship to get her master's degree in the field of civil engineering at Worcester Polytechnic Institute, Worcester, MA, USA studying mechanical behaviour of materials by the use of molecular modelling and experimental stress analysis.  The underlying science of all her research is chemistry and its application in engineering.  She was always keen to use her background in biology and biomedical engineering.  She has experience with modelling different biopolymers and biological materials.  She has also experience in finite element analysis of biological materials.
Besides research, she is interested in art and design and is always excited about new experiences and skills.  Knitting, swimming, cooking, painting, hiking and playing an Iranian musical instrument (Setar) are some of her favourite hobbies.  She loves travelling and observing other cultures, tasting their traditional foods and learning about languages.